Federated Car Care Program

The Federated Car Care Center Program is a nationwide network of independently-owned repair facilities. When you join the Federated Car Care Program you'll become part of this network and receive the tools necessary to attract, retain, and satisfy your customers beyond expectation, helping your business to compete and succeed!
Car Care Members Have Access To The Following Benefits:
Streamline your point of sale and part ordering process with a host of professional tools to save you valuable time and money. Using the internet to order from Fisher Auto Parts is a quick and efficient way to get the parts and service you need. Currently Fisher Auto Parts offers two separate packages for this purpose, Federated Link and Federated Autoi Professional.
Federated Link Online Catalog
Federated Link is Federated Auto Parts' online parts ordering system. Its streamlined catalog interface allows you to easily find and order parts. Additionally, Federated Link includes license plate and VIN code vehicle search functions. Add to that the Parts Interchange service and many other enhanced features and functions, and you will find that it's a tool you will definitely want to use.
Visit Federated Link now!
Real-Time Part Availability and Ordering
Detailed Part Images & Attributes
License & VIN Code Vehicle Search
Filter by Brand, Size, and other Attributes
Parts Interchange
Invoice Order History
Custom Categories
Fast Stock Orders
And More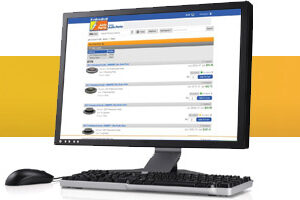 Federated Autoi Professional
Federated Autoi Professional is a software package that is downloaded and installed on your computer. In addition to the Electronic Parts Catalog this software provides a Point of Sale system that generates invoicing, maintains a customer database, generate estimations with labor guides, manage jobs, get technical resources, and keep vehicle maintenance history.
Interested In Our Part Ordering Systems?
Contact your local Tri-County Auto & Truck Parts Store or sales representative for details and to sign up. 
Today's automobiles are more technical than ever before. Hybrid drive, Electronic Stability Control, and Emission Control Systems demand that automotive repair facilities have their technicians trained regularly to hone their skills. To be a successful business, as well as to insure the safety of their customers, the modern technician can depend on Federated Auto Parts to help them gain the necessary training

Expert Knowledge and Advice for all your Auto Part and Service Needs!
Tri-County Auto & Truck Parts Stores
We encourage all of our employees to become ASE-certified Parts Specialists. The blue and white ASE certification seal is proof that a counter person is knowledgeable and highly qualified to service both the professional installer and the do-it-yourself customer.

The benefits of quality training are also important to our professional customers. Participants in the Federated Car Care program receive discounted ASE pre-testing as well as reimbursement for successful ASE certification. Fisher Auto Parts has joined with our supplier partners to offer an extensive training program, which includes self-paced, leader-led and online courses. There are hundreds of classes available on every automotive service topic ranging from basic repair to in-depth troubleshooting.

Federated Auto Parts also offers an in-depth Shop Business Training program that helps independent repair facilities with shop management concepts like time management, preventative service referrals, the importance of bay efficiency and improving your shop's economic engine.
Additional Free Training Resources
Tri-County Auto & Truck Parts is excited to offer you a myriad of professional tools to help your business compete and succeed! Including:
Online Catalog & Parts Ordering
Interchange
Detailed Part Images and Attributes
And More
Federated Car Care Member
Nationwide Network of Independently-Owned Repair Facilities
Nationwide Warranty
Roadside Assistance
Marketing Tools and More!
Federated Autoi Professional
Online Catalog & Parts Ordering
Full Point of Sale System
Generate Invoices and Estimates
Labor Guides and More!
In-Depth Shop Business Training Program
Extensive On-line Training Options
Contact a Tri-County Auto & Truck Parts Store
The best way to get full details and information on signing up for our programs is to contact your local Tri County Auto & Truck Parts Store or current sales representative.
Feel free to give our Corporate Office a call at 931-484-6168. We will gladly answer any of your questions and put you in contact with the correct people.